Location
Brunswick, Duplin, New Hanover, Onslow or Pender county.
Time
Approximately 8 a.m. – 4 p.m.
Exact time and location will be determined closer to the event date.
Can you paint and swing a hammer?
Or are you interested in learning these skills and more?
All experience levels are encouraged to serve!
Join Catholic Charities and the Knights of Columbus as we help repair homes damaged by Hurricane Matthew and Hurricane Florence in the Cape Fear Area.  Volunteers of all experience levels are encouraged to participate. Spots are limited so sign up now!
Project Description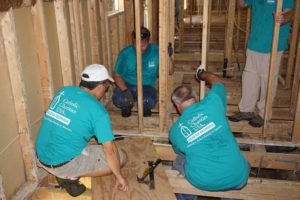 Catholic Charities will be partnering with the Wilmington Area Rebuild Ministry (WARM) to repair homes in the Cape Fear Area.

The Wilmington Area Rebuilding Ministry's mission is to repair, rebuild, and make homes accessible; and to inspire service, generosity, and hope. By preventing home accidents and illnesses, WARM helps people age in place safely – preserving their dignity and independence.

Volunteers will be asked to register with WARM after registering through NC Catholics Volunteer.

Volunteers will receive more details in their confirmation email.

As COVID-19 guidance continues to change, volunteers will be informed of safety protocols as the date of their trip approaches.

Attire

Closed toe shoes are mandatory.

Please wear clothing you are comfortable getting dirty and/or stained.

Projects may include painting, putting up drywall, and laying down flooring. All projects will be determined on the day of the project.

Individuals under 18 must be accompanied by a parent. Minimum age to participate is 13.

Individuals must be comfortable working in a construction site.
If you have any questions, please contact Daniel Altenau at Daniel.Altenau@ccharitiesdor.org or at (984) 900 – 3115.