Volunteers Needed
Spots are limited. Registration closes July 15th.
Sign up today!
Project Description
NC Catholics Volunteer has partnered with The United Methodist Church to assist families impacted by Hurricane Matthew.

This opportunity is open to all interested in lending a hand to help those impacted by Hurricane Matthew.

Projects may range from tearing out and ripping down walls to painting and putting up drywall. All projects will be determined on the day of the project.

Individuals under 18 must be accompanied by a parent.

Individuals must be comfortable working in a construction site.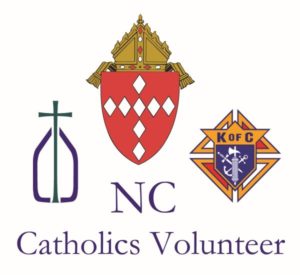 NC Catholics Volunteer is an opportunity for residents of North Carolina to answer Jesus' call to serve one another.
Organized by Catholic Charities of the Diocese of Raleigh and the North Carolina Knights of Columbus, this group provides volunteer opportunities to help assist families in their time of need.