---
Hurricane Matthew Relief Efforts
A natural disaster. It's one of the most traumatic things a family can experience. At Catholic Charities, we work with families to help them recover and persevere through this vulnerable time.
Hurricane Matthew had a devastating impact on North Carolina. More than 3,500 people were forced from their homes and into shelters. Sadly, 26 people lost their lives.
It's a challenging time. But we've seen the best of our community. Many generous donors are supporting those impacted by Hurricane Matthew. People are donating groceries, diapers, and cleaning supplies. We are grateful to the volunteers who have helped us organize and distribute these donations.
In the coming weeks and months, we will transition from assisting families who need immediate help, to addressing long term challenges, such as permanent housing.
Our staff are present in the community before an event, during an event, and long after the event.
We're committed to assisting families as they recover from Hurricane Matthew.
You can donate through our website, CatholicCharitiesRaleigh.org /donate. Monetary donations are the most useful. They give us the flexibility to purchase what families need most.
To donate non-cash goods, please coordinate with our offices. It can be challenging at times to store donated goods so we need to be prepared. We ask for only new and gently used goods.
Please keep the families impacted by Hurricane Matthew and the volunteers assisting in the response efforts in your thoughts and prayers.
---
How You Can Help
Our faith calls us to care for our brothers and sisters in need. If you are interested in volunteering please visit CatholicCharitiesRaleigh.org/volunteer.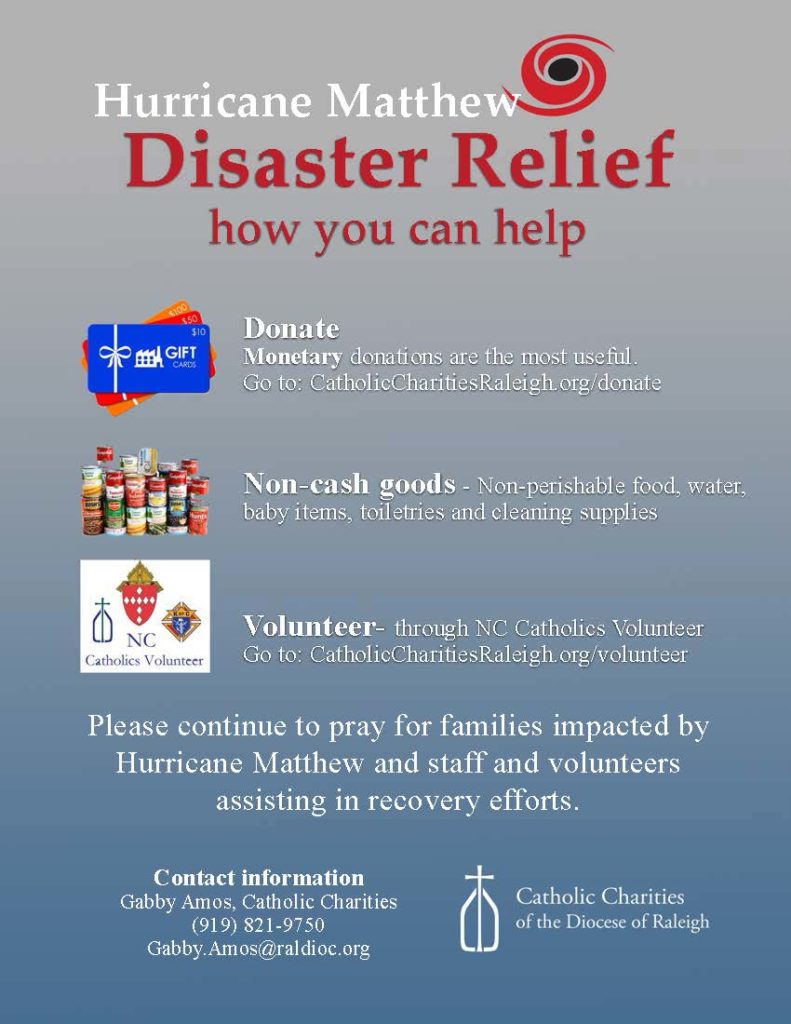 ---