Hurricane Matthew
A natural disaster. It's one of the most traumatic things a family can experience. At Catholic Charities, we work with families to help them recover and persevere through this vulnerable time.
Hurricane Matthew had a devastating impact on North Carolina. More than 3,500 people were forced from their homes and into shelters. Sadly, 26 people lost their lives.
It's a challenging time. But we've seen the best of our community. Many generous donors are supporting those impacted by Hurricane Matthew. People are donating groceries, diapers, and cleaning supplies. We are grateful to the volunteers who have helped us organize and distribute these donations.
In the coming weeks and months, we will transition from assisting families who need immediate help, to addressing long term challenges, such as permanent housing.
Our staff are present in the community before an event, during an event, and long after the event.
We're committed to assisting families as they recover from Hurricane Matthew.
You can donate through our website, CatholicCharitiesRaleigh.org /donate. Monetary donations are the most useful. They give us the flexibility to purchase what families need most.
To donate non-cash goods, please coordinate with our offices. It can be challenging at times to store donated goods so we need to be prepared. We ask for only new and gently used goods.
Please keep the families impacted by Hurricane Matthew and the volunteers assisting in the response efforts in your thoughts and prayers.
How You Can Help
Our faith calls us to care for our brothers and sisters in need.  You can make a donation through our secure online portal here.  If you are interested in volunteering please visit CatholicCharitiesRaleigh.org/volunteer.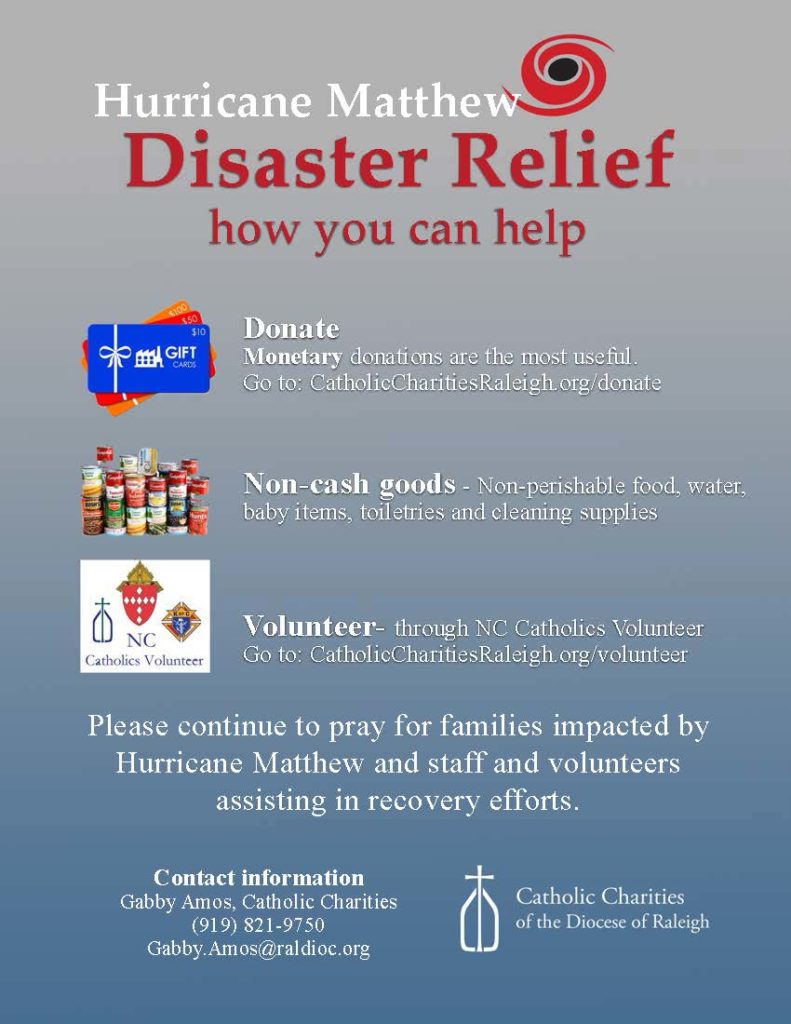 Overview
Catholic Charities works with local disaster partner agencies to help families prepare for and recover from disasters.  To help families prepare for disasters, the Catholic Charities Disaster Services program facilitates disaster preparedness workshops and provides educational information at parishes and other community sites. Following a disaster, Catholic Charities staff engage with individuals, families, and the community to aid in the relief and recovery process.
The Disaster Services program assists individuals and families by responding to their needs with respect, regardless of their race, color, or faith orientation. The program provides tangible assistance to families immediate after a disaster, then transitions into a client centered approach that recognizes the strengths of the family members to meet their own needs.
Preparation
Proper preparation is vital to limiting the effects of a disaster.  Remember to follow the steps below to remain safe.
How to Prepare
Stay Informed — Stay up-to-date on storm, emergency and evacuation warnings using internet, TV or radio. (See web links below)
Store Supplies — Make sure you are ready for power outages or limited access to transportation by stocking up on items such as flashlights, batteries, blankets, prescriptions, First Aid, water and food.
Protect Property — Take steps to secure your home against wind or water damage. Locate important documents or personal items and store them in a protected, accessible area.
Evacuation and Shelter-in-Place — If an evacuation order is given, leave early and follow posted evacuation routes. Make a plan in advance in case you are required to leave your home. If a shelter-in-place order is given, remain inside your home until the warning is lifted.
Resources
Flooding Safety Flier English
Hurricane Safety Flier English
Flooding Safety Flier Spanish
Hurricane Safety Flier Spanish
Past Recovery Efforts
September 24, 2016 – Windsor Flooding
Heavy rain caused the Cashie River in Bertie County to flood, forcing many families from their homes in the town of Windsor.  Catholic Charities worked with a variety of community partners including the Red Cross to help families find a new place to live.
July 16, 2016 – Triangle Flooding
Severe thunderstorms caused flooding in Durham and Raleigh, forcing families from their homes.  Catholic Charities worked with North Carolina Emergency Management and the Red Cross to help families find shelter after they were forced from their homes.
July 3, 2014 – Hurricane Arthur
Hurricane Arthur brushed against the eastern coast of North Carolina overnight on July 3rd. Damage from the storm was limited. Catholic Charities provided disaster case management and financial support to one family whose house was damaged due to high winds.
April 26, 2014 – Tornadoes Pass Through Eastern NC
Multiple tornadoes ranging in power from F-1 to F-3 touched down over night. Impacted areas included Beaufort County (Washington and Chocowinity), Pasquotank County (Elizabeth City), Pitt County, Greene County, and Bertie County. In Beaufort County, there were 16 injuries, approximately 100 homes damaged, and 3,300 homes lost power. A state of emergency was been declared in Beaufort County.
Catholic Charities: provided gift cards for food replacement of spoiled food due to power outages; provided disaster case management to meet financial and re-building needs of families; and was available to provide emotional support, as requested, for families experiencing loss

---